The Last Suppers (December 2017)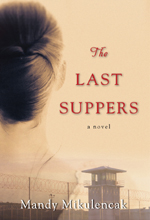 From Kensington's New Hardcover Imprint John Scognamiglio Books
Set in 1950s Louisiana, Mandy Mikulencak's beautifully written and emotionally moving novel evokes both The Help and Dead Man Walking with the story of an unforgettable woman whose quest to provide meals for death row prisoners leads her into the secrets of her own past. Excerpt selected for the 2017 Fall/Winter edition of Buzz Books (Publishers Marketplace)
Available for pre-order online or from your local bookstore.
---
Burn Girl (September 2015)
A meth lab explosion leaves Arlie permanently scarred — both physically and emotionally. Yet, she develops the survival skills to keep her addict mother out of the reach of the law and hidden from her stepfather, the man responsible for the explosion. When her mother's suicide forces an end to their nomadic lives, Arlie tries to create her version of a normal life. The return of her stepfather threatens to jeopardize everything and everyone she loves.
"Compassionate and moving." Booklist, September 15, 2015
Now available in paperback at online retailers and your local bookstore.